2020 Conference Information Coming Soon
ERS National Conference
with the Authors of the Environment Rating Scales
Baltimore, MD
April 29 – May 1, 2020
2018 Conference Information Below….
The 2018 ERS National Conference will be an opportunity to network and learn the many innovations happening with the Environment Rating Scales across the country. This year's event has been specifically tailored for…
-QRIS/State Administrators
-ERS Anchors/Assessors
-ERS Coaches/Technical Assistance Specialists
To view the complete conference agenda, click HERE
Schedule at a Glance:
WEDNESDAY, OCTOBER 10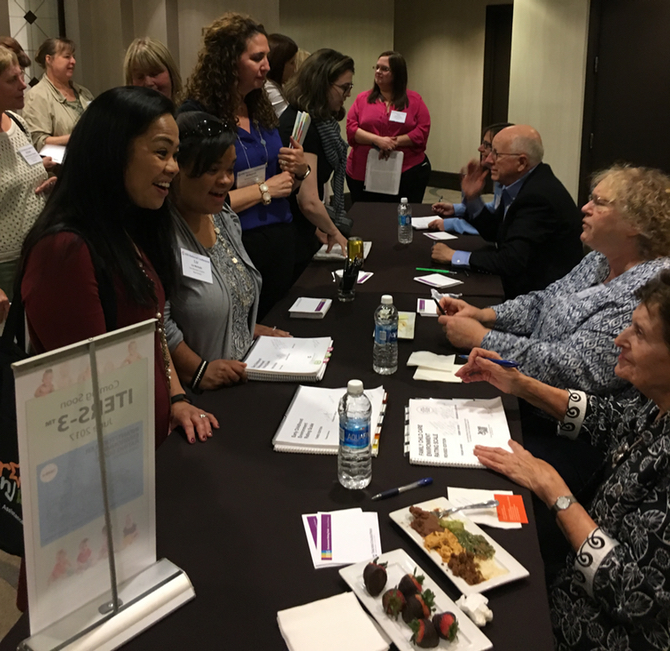 7:30 – 8:30 Breakfast
8:30 – 9:15 Building Our ERS Community
9:30 – 12:15 Learning Community Sessions
Session A: Insider Insights on the FCCERS-3
Session B: Coaching: What Works?
12:30 – 1:30 Lunch & Learn: 
Moving Beyond Quality for a Day with Debby Cryer
1:45 – 4:30 Learning Community Sessions
Session C: Taking the Leap to ECERS-3 and ITERS-3
Session D: One Preschool's Journey with LearnERS CQI Self-Study Guide
5:00 – 7:30 Reception, Author Book Signing & Game Night
THURSDAY, OCTOBER 11
7:30 – 8:30 Breakfast
8:30 – 11:15 Learning Community Sessions
Session E: Everything You Ever Wanted to Know about the ERS but were Afraid to Ask
Session F: Analyzing and Using ERS Data to Improve Practice
11:30 – 1:15 Lunch Excursion to Del Mar
1:30 – 4:15 Learning Community Sessions
Session G: Innovations with the Environment Rating Scales
Session H: Sustaining Inter-Rater Reliability in High-Stakes Assessments
4:30 – 5:30 Workshop Sessions
Workshop 1: Basic Coaching Teachers with the ERS
Workshop 2: Introducing the All About ECERS-3
Workshop 3: Understanding Montessori in the Context of the ERS
FRIDAY, OCTOBER 12
7:30 – 8:30 Breakfast
8:30 – 11:00 ERS Conference 2018: Lessons Learned
11:00 – 12:00 The ERS Community Moving Forward
12:00 Adjourn
Breakfast and late afternoon snack breaks provided each day. Lunch is provided on Wednesday, October 10th. Lunch is on your own on Thursday, October 11th.
Click HERE to see a 30 second slide show from last year's conference.